picture alliance/dpa | Ondrej Deml
MERICS Briefs
MERICS Europe China 360°
China-CEE relations + Xinhua interviews with Kuleba and Lavrov + UK-China relations
In this issue of the MERICS Europe China 360° we cover the following topics:
Can China win back Central and Eastern European states?
Buzzword of the week: Detention
Xinhua interviews Kuleba and Lavrov amid Global Security Initiative push
The UK doubles down on China


By Grzegorz Stec
In the foreseeable future — doubtful. China's relations with many actors in the region have deteriorated significantly as a result of Beijing's tacit support for Moscow and its revisionist agenda towards the European security framework. A case in point is provided by the China-Central and Eastern Europe (CEE) cooperation framework. Despite celebrating its 10th anniversary this April, Beijing has been unable to find a CEE country willing to host the annual summit. 
China's engagement in the CEE was already faltering before Russia invaded Ukraine, primarily due to a sense of disenchantment with the economic performance of the 16+1 framework. 
Although trade between China and the region has increased by 85 percent over the past decade according to Chinese data, the trade imbalance has grown and Chinese investments have remained low compared to those in other parts of Europe. By the end of 2021, the cumulative value of transactions in the 10 EU states still in the 16+1 totaled EUR 13.8 billion — a sum similar to the level of investment in the Netherlands alone. And of this, EUR 0.1 billion was in Lithuania, which recently left the framework. Lithuania, Czech Republic and Slovakia, in particular, have expressed their dissatisfaction by turning more to Taiwan with which they also share democratic values. The ensuing economic coercion of Lithuania over this move is another factor making business engagement with China less appealing in the region.
---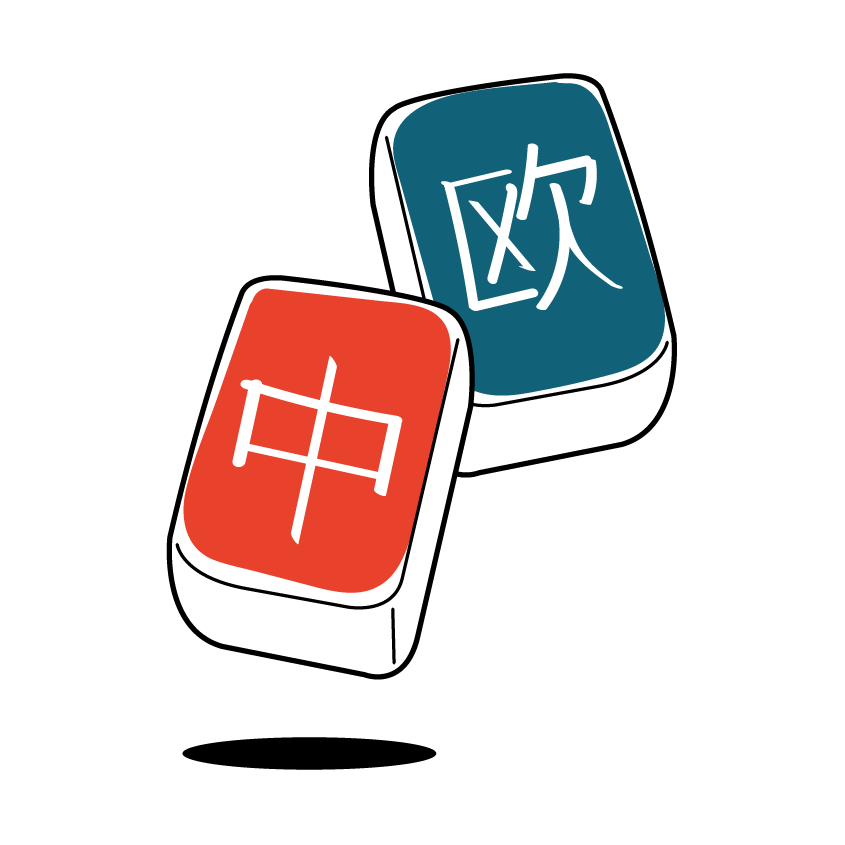 You are reading a free excerpt from the May 5, 2022 issue of our MERICS Europe China 360° Brief. Become a subscriber to get access to all contents. Find out more about our subscription packages here.
---
China's alignment with Moscow resulted in a further, strategic dis-alignment with CEE. Security considerations have already been an important factor in many CEE states' outlook towards China — including following a joint China-Russia naval exercise in the Baltic Sea in 2017.
But China's support for the Russian invasion and the revision of NATO-based European security architecture has put Beijing at clear odds with the fundamental strategic interests of EU countries across the region. Consequently, their oftentimes tactical approach to China policy has now gained a strategic objective.
To mitigate this, on April 18 Beijing dispatched its MFA Special Councilor for CEEC cooperation, Huo Yuzhen, to eight countries in the region. Her delegation was tasked with "eliminating misunderstandings regarding Russia-Ukraine conflict" (消除双方在俄乌冲突上产生的误解) and discussing ideas that could reignite CEE countries' interest in "pragmatic cooperation" (务实合作) linked to the Belt and Road Initiative.
Huo's team is accompanied by a group of Chinese entrepreneurs and think tankers, including researchers from the Institute of European Studies at the Chinese Academy of Social Sciences, which heads the China-CEEC Think Tanks Network.
Another delegation led by former Ambassador to Finland and Czech Republic, Ma Keqing, was dispatched to Greece and Albania, before continuing diplomatic engagements outside of the CEE.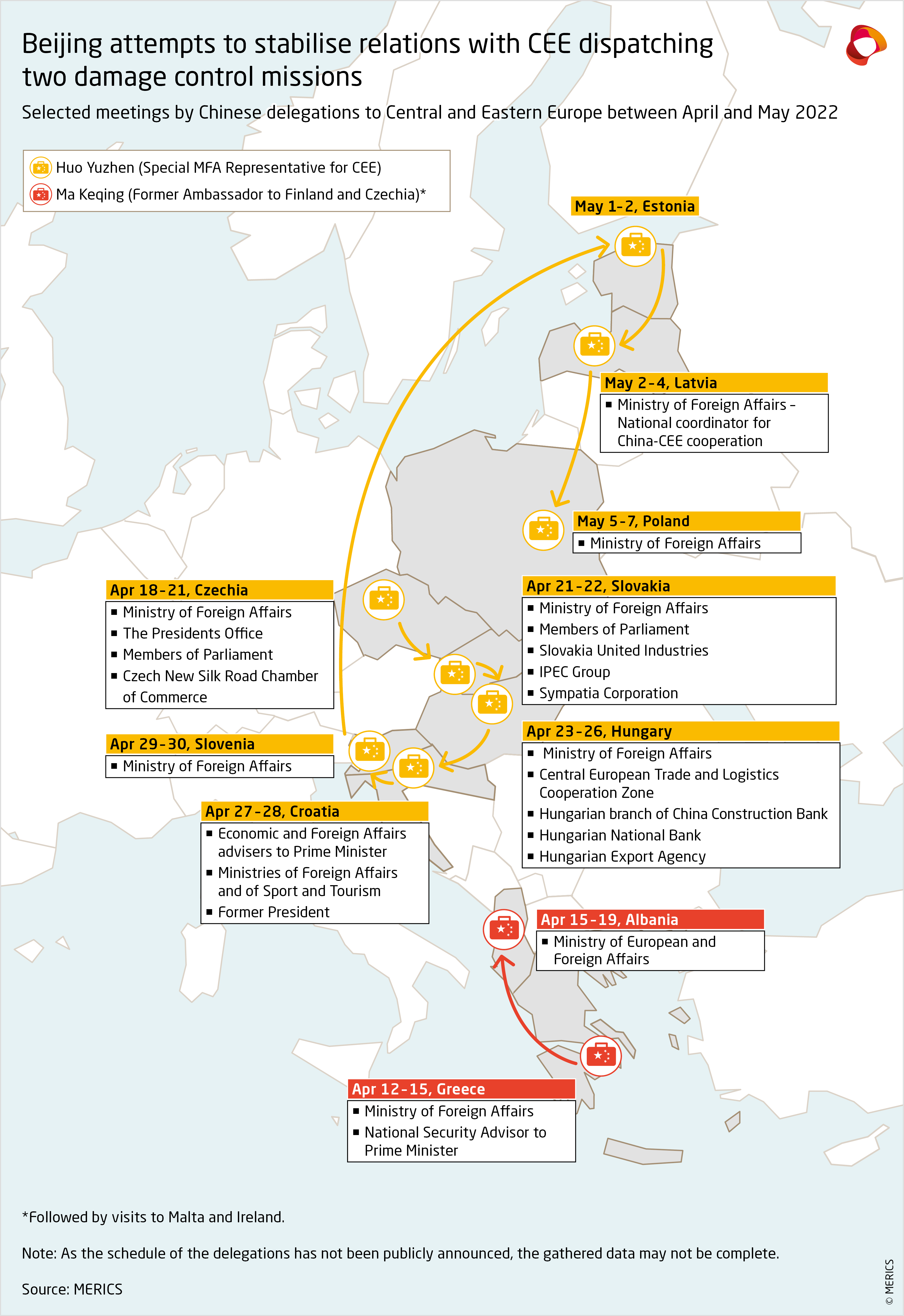 However, it is unlikely that CEE countries will be responsive to these attempts. The idea of returning to "pragmatic cooperation" feels out of sync with current geopolitical reality. While Beijing seems to be aware of the waning interest in engagement across the CEE shown by proposing to downscale China-CEE summits from rank of top leadership to that of foreign ministers, it still is failing to appreciate how crucial its position towards the Russian invasion is for the region. It is unlikely that it will come up with an economic offer capable of reverting that trend, as it would have to be simultaneously very attractive for CEE countries, believable despite the history of disillusionment with China's promises, while at the same time acceptable to Beijing. Similarly unlikely is the possibility that Beijing shifts its position on the Russian invasion, though it might attempt to foster some goodwill among CEE countries by, for example, rolling out a substantial humanitarian aid package for Ukraine.
But Beijing's attempts to reignite practical cooperation face an uphill battle for other reasons, too. One of these is increased competition from Taiwan. As Huo's delegation tours the region, Taiwan has just unveiled a USD 200 million Central and Eastern Europe Investment Fund to support capital investments into such strategic sectors as semiconductors, bio, space, fin and laser tech as well as e-vehicles. The move builds on consultations with CEE counterparts carried out during Taiwanese delegations' visits to the region last autumn with Lithuania, Slovakia, and Czech Republic set to be key beneficiaries. 
At the same time, the EU has been ramping up efforts to display its unity and limit the impact of China's economic coercion. It announced a EUR 130 million cushioning fund to support Lithuanian companies affected by China's trade restrictions. The fund will run until the end of 2027 and will grant loans to Lithuanian businesses seeking to diversify to other markets or reorient their business strategies.
However, the CEE is not a homogenous region. Russia-related considerations do not appear to be significantly affecting Beijing's relations with Hungary and Serbia — two countries that have consistently cultivated a Beijing-friendly stance. In April, Hungarian Prime Minister Viktor Orbán and Serbian President Aleksandar Vučić each secured a further term in office with comfortable support levels. This gives Beijing assurance that it will continue to find receptive partners for discussions in those states.
Still, for the majority of the CEE countries the strategic calculus seems to be clear and not in China's favor. Given the limited chance of Beijing meaningfully addressing the concerns of those states, or of them changing their outlook on the current geopolitical landscape, China-CEE relations, which had already stalled, may now be entering a rather frosty period. 
Read more:
DETENTION
A Chinese staffer of the EU Delegation in China was detained in September 2021 in a rare case of an employee of a foreign diplomatic representation being arrested. The charge was "picking quarrels and provoking trouble" — a vague enough accusation but one that may cost the employee up to five years in prison. Despite numerous requests from the EU delegation, Chinese authorities have not provided further information on the matter. 
Read more: