picture alliance / ASSOCIATED PRESS | Benoit Tessier
MERICS Briefs
MERICS Europe China 360°
China debates on France and Germany + EU anti-forced labor instrument
In this issue of the MERICS Europe China 360° we cover the following topics:
China debates: Chinese scholars look for a new Merkel in Macron
The EU is pushing forward an ambitious anti-forced labor instrument
Short takes
By Thomas des Garets Geddes
Germany and France are believed to be preparing back-to-back state visits to China in November – a few weeks after President Xi Jinping is expected to secure a third five-year term in office. Much has changed since German and French heads of state last visited Beijing in 2019. Tensions between European countries and China have risen markedly and the "business as usual" approach to pre-pandemic exchanges is likely to be a thing of the past. In this issue, we provide a short overview of the evolving dynamics of Sino-German and Sino-French relations as perceived by Chinese scholars. Whereas Merkelian Germany was once considered China's most "pragmatic" (务实) and stable partner in the EU, this is changing. Interest within China is shifting increasingly towards France.
President Emmanuel Macron's victory over his far-right opponent Marine Le Pen earlier this year was a relief to many international relations experts in China. A commentary by a collective of scholars from Fudan University noted that, "Macron's victory is not only significant for the EU, but also key to the future direction of China-EU relations. Between Macron and Le Pen, Macron was China's favoured candidate. In the current turmoil that has engulfed Europe and Sino-European relations, Macron can provide the leadership and vision needed to stabilise both the EU and China-EU relations." Similar views were held by other Chinese analysts both before and after the elections. 
---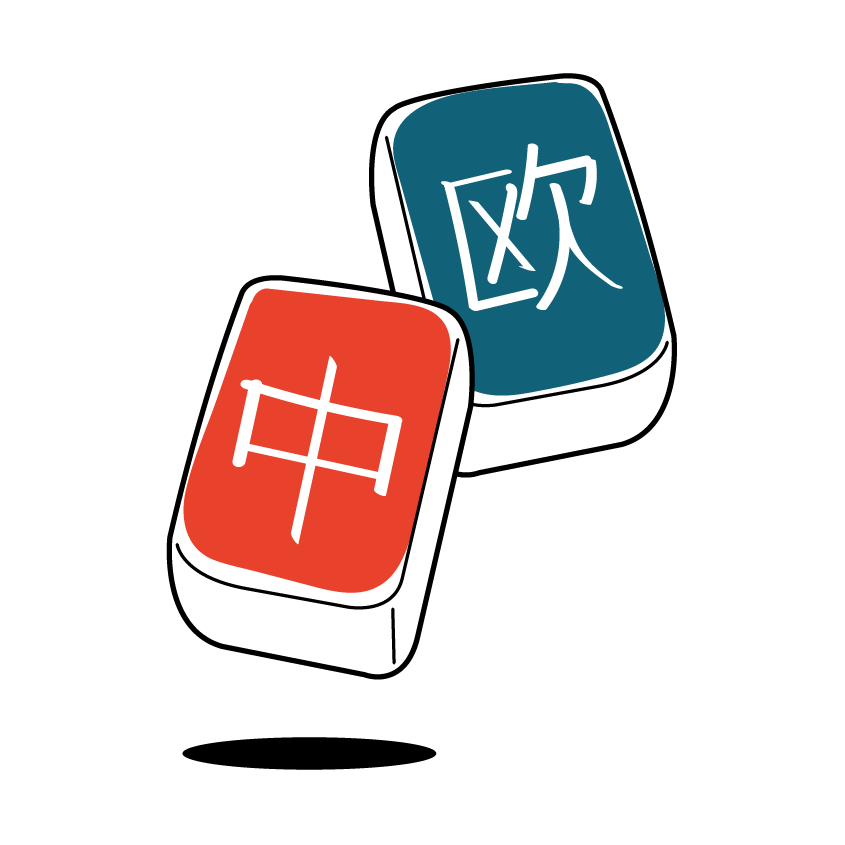 You are reading a free excerpt from the September 29, 2022 issue of our MERICS Europe China 360° Brief. Become a subscriber to get access to all contents. Find out more about our subscription packages here.
---
As discussed in our April 14 edition, President Macron and French foreign policy in general are seen as presenting several key attributes that are of importance to China: relative predictability, a natural proclivity towards US-skepticism, an increasing sway over EU reforms and a presumed greater emphasis on national interests as opposed to "ideology" relative to other major western countries. France's approach to China is also described as "two-faced" – an oft-used qualifier in Chinese descriptions of western countries. Yet emphasis tends to be placed on the French government's desire to engage with, rather than confront, Beijing. Fudan professors Xue Sheng and Zhang Ji hold that "at the EU and multilateral level, France may continue to intensify its criticism of China as a means of demonstrating its 'political correctness' [to other western countries]". However, based on recent interactions, they expect France to continue to encourage cooperation and dialogue in its bilateral exchanges with Beijing.
Chinese scholars increasingly view Macron as China's key point of contact in its relations with the EU. Unlike German Chancellor Olaf Scholz, who is generally characterized as "weak" and unable to impose his authority over his more China-sceptic coalition partners, Macron's extensive presidential powers and perceived dominant influence over EU decision-making have evidently raised Chinese interest in strengthening ties with the Elysée. Wang Shuo and Wu Yiwen, two professors at Beijing Foreign Studies University, believe that "Macron is eager to take over the EU's leadership from Germany", and recommend that "China should therefore ... treat France as the EU's [de facto] leader when cooperating with the EU."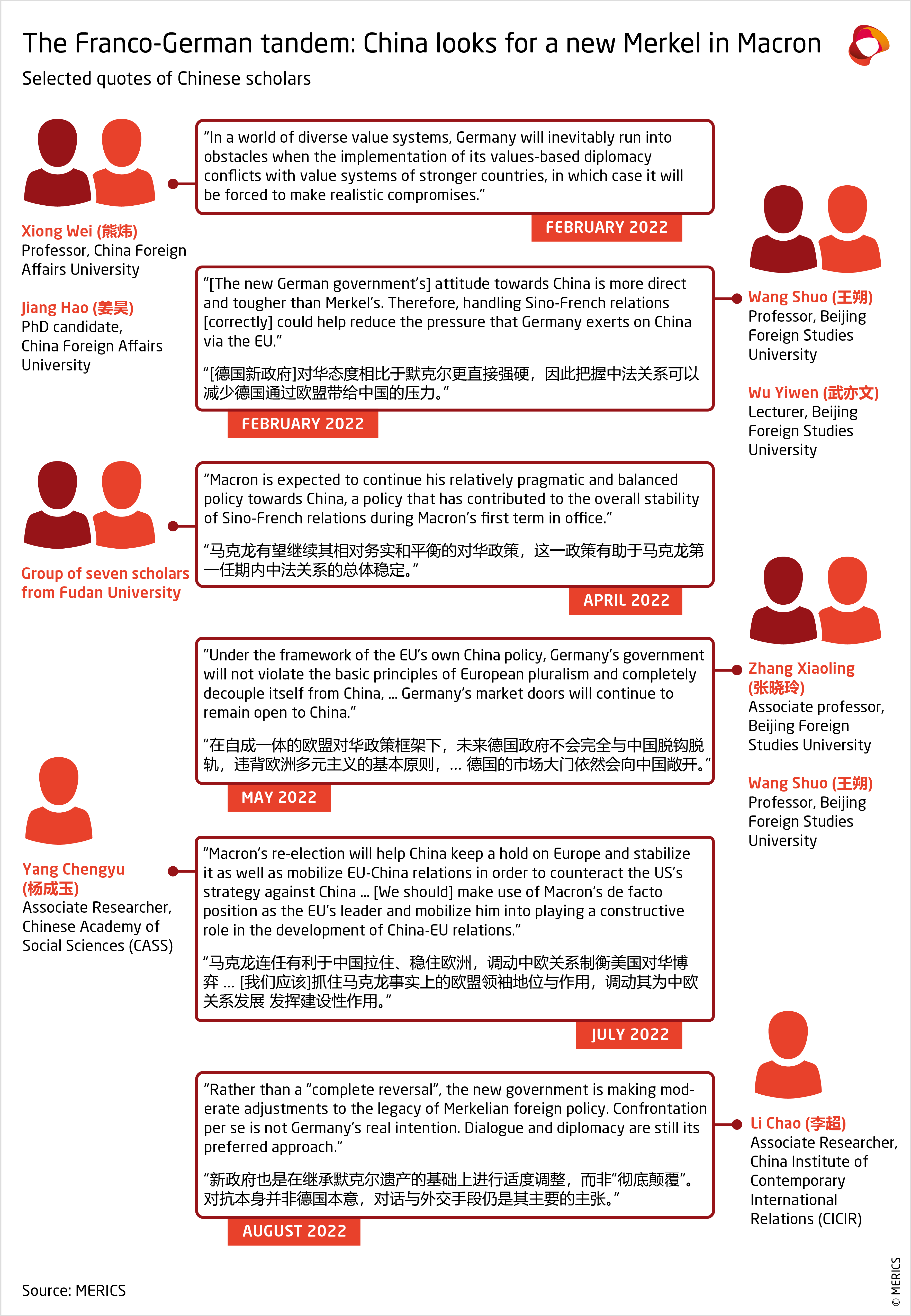 Once considered as the ballast of EU-China relations, Germany post-Merkel has become a source of concern for Chinese scholars. With Germany's future China policy still in the making, uncertainty pervades Chinese assessments of Berlin's strategic positioning vis-à-vis both the PRC and the US. 
These experts describe German politics as undergoing profound structural changes that are making German foreign policy less predictable and more antagonistic towards China than had previously been anticipated. Driven by younger generations of politicians less burdened by the weight of history, by an increasing emphasis on values over economic interests, and by a realization that soft power alone is not always enough to achieve its objectives abroad, German foreign policy is portrayed as becoming increasingly principled and assertive.